Our Mission
The mission of the Coos Bay Fire Department is to actively promote, deliver, and preserve a feeling of security, safety and a quality level of service to the citizens of our community.

To accomplish this, the department provides a full range of emergency service responses to such incidents as fires, hazardous material incidents, and medical emergencies as they arise. Additionally, the department provides a number of proactive programs in fire prevention, public education and disaster preparedness.

---
Get To Know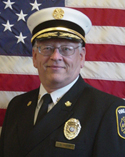 Stan Gibson
Chief
Contact
541-269-1191
FAQs
Q:

× What is allowed in a burn barrel? DOMESTIC WASTE ONLY MAY BE BURNED. PAPER, CARDBOARD, AND YARD DEBRIS ALL MUST BE DRY.

Q:

× How do I become a volunteer firefighter?

To become a Coos Bay Fire & Rescue Volunteer Firefighter please fill out a Volunteer Application and include a copy of your valid license or identification card, and turn it into Central Station located at 450 Elron St. in Coos Bay.

Q:

× Is burning allowed within the city limits? Burning is allowed during daylight hours only, with a responsible adult equipped with a hose and a shovel or other approved fire extinguishing tool present at all times. Residential outdoor burning within the City limits of Coos Bay does not require a permit from the fire department.
View All
Chief's Message
Welcome to the Coos Bay Fire Department web-site
On behalf of the men and women of Coos Bay Fire & Rescue, welcome to our department web-page.

Although comprehensive, the following pages only tell part of the story about the dedication, pride, and professionalism with which fire department members serve the Coos Bay community.

The Fire Chief and Battalion Chiefs are responsible for establishing policy, planning operations, emergency management, budgeting, and managing expenditures, supplies, facilities and personnel. We also continually evaluate operational effectiveness and strive to implement improvements.

The administration focuses upon the fire department's effectiveness in managing the city's fire protection system in order to minimize loss of life, property, personal injury and environmental damage from fire, accidents, medical emergencies, and hazardous materials releases.

Again, welcome to our web-page. If you have any questions or suggestions, please contact me at 541-269-1191.

Stan Gibson, Fire Chief
Administration
Coos Bay Fire & Rescue Administration
Stan Gibson, Fire Chief
Stan Gibson is the Fire Chief for the City of Coos Bay, Oregon, serving in that capacity since June, 1997. He has previously served as the Chief of Training for Perry Township Fire Department, Indianapolis, Indiana. Prior to his time with Perry Township Chief Gibson was the Indiana State Director of Fire Training for the State Fire Marshal's Office. He started his fire service career in 1974 with the Union City, Indiana Fire Department as a volunteer firefighter. The following year he was hired as a career firefighter for the department.

Chief Gibson was honored twice as the Indiana Fire Instructor of the Year in 1984 and 1987, presented by the Indiana Fire Instructor's Association. He has presented programs in 35 states on topics of leadership, instructor training, firefighter health and safety, fire investigations, budget preparation and hazardous materials. He served on the International Fire Service Training Association (IFSTA) validation committee for the 7th edition of "Fire and Emergency Services Instructor" manual. He also served as the Vice-Chairman of the "Fire Hose" committee for IFSTA in 2001-2002.

Chief Gibson is an adjunct instructor for the National Fire Academy presenting in the areas of hazardous material, fire service training and firefighter health and safety. Since the tragic loss of three firefighters in November, 2002 Chief Gibson has served as a team member for the National Fallen Firefighters Foundation program "Taking Care of Our Own".

Chief Gibson's responsibilities for the City of Coos Bay include being the City Emergency Management Program Coordinator. In that role he oversees the City's emergency operations planning process and warning systems, as this relates to the Tsunami Hazard Mitigation in the City. Chief Gibson is active in raising the local awareness of the population, working with State and Federal officials for integrated tsunami maps, incorporating tsunami planning into the local multi-hazard programs..

Mark Anderson, A-Shift Battalion Chief

Mark Anderson has been an employee with the City of Coos Bay since January 1989. He began as a Firefighter/Engineer, but was promoted to the rank of Captain in December of 1991. In 1994 Mark accepted the position of Deputy Chief of Operations and Training. The fire department restructured the organization in 2002, and Chief Anderson's title was changed to Battalion Chief.

Prior to joining the Coos Bay Fire Department, Mark was a volunteer firefighter with the Marion County Fire District #1 in Salem, Oregon. He graduated with an AS degree from Chemeketa Community College's Fire Science program in 1986. In 2002, Mark completed the Executive Fire Officer program through the National Fire Academy in Emmitsburg, Maryland.

Chief Anderson is responsible for vehicle maintenance, communication equipment, station 1 maintenance, new uniforms, janitorial inventory and office supplies as well as other operational areas for the department. He is a certified technician with the OSFM Regional Hazardous Materials Team, Emergency Medical Technician, NFPA Fire Officer IV, and Instructor.

Mark has been married to his wife Angie since July of 1987. Together they have seven children. They are very active in their church and community.
Dean Martin, B-Shift Battalion Chief

Battalion Chief Dean Martin was hired in August of 2004 and serves as the Battalion Chief for B-Shift. He has been a member of the Oregon fire service for the past 34+ years and brings over that experience. In addition to an Associates Degree in Fire Science, he has been a Paramedic for 25 years and is currently working on a Bachelors Degree in Fire Service Administration from Eastern Oregon University.

His career began as a volunteer with the Rogue River Fire District in February 1979, and was there for a year. He left to go work for Goodhew Ambulance in Los Angeles for one year to gain experience. He returned to the fire service in 1981 as a volunteer for the Rogue River Fire District in Southern Oregon where he spent 24 years. During his time there he was promoted from Volunteer to Paid FF, Engineer, Lieutenant and finished as Captain/Training Officer. He worked part time for Action Ambulance, Ace Ambulance, Care Ambulance and Volunteered at Jackson County Fire District #6 as their Training Officer. He also co instructed the Paramedic Program at Umpqua Community College for 16 years. In 2003 he left Rogue River Fire and took a position at Chemeketa Community College in Salem Oregon where he was an instructor for the Fire Science Program. In 2004 he moved his family to Coos Bay and started working for Coos Bay Fire as a Battalion Chief.

He has been accepted by the National Fire Academy in Emmitsburg, Maryland five time and has earned many certificates and awards in his career. Some of them include: Fire Chiefs Award at Rogue River Fire for service above and beyond. This award was only given out twice in the twenty four years he spent with the District. The Oregon Department of Forestry Service Award, for the development of the medical unit equipment needed for the first seventy two hours of operation. The Rogue Interagency Training Association Service Award, for the development of the wildland class SW-195, grants obtained, EMS marathon, Firefighter I academy. His most recent accomplishment was being nominated and earning the American Legion Firefighter of the year for the Western States. When off duty, Chief Martin enjoys spending time with his wife of 16 years, Michelle, their kids, and grand kids when he is not coaching baseball or working in the garden.
Dan Crutchfield, C-Shift Battalion Chief
Dan Crutchfield began his association with the City of Coos Bay in May of 1993 when he became a volunteer firefighter with the Coos Bay Fire Department. In July of 1996, Dan transitioned from volunteer to a full-time career firefighter. While working in the fire department, Dan was assigned to coordinate several projects such as building & facility maintenance, fire prevention, and the hazardous materials team.
Dan has attended Southwestern Oregon Community College, Columbia Southern University, and Waldorf College. He has earned an Associate of Applied Science Degree in Fire Science and a Bachelor of Science in Fire Administration. Dan has attended four classes at the National Fire Academy in Emmitsburg, Maryland. Dan was promoted to Battalion Chief in January of 2013. Dan has been accepted into the Executive Fire Officer Program at the National Fire Academy. Dan will begin this program in 2014 and graduate as an Executive Fire Officer in 2017.
Dan is an Emergency Medical Technician Intermediate, Hazardous Materials Specialist, Instructor and a Fire Officer II. Dan has been a part-time instructor at Southwestern Oregon Community College since 1998. Dan instructed the EMT Basic class from 2003 to 2013. Dan instructs hazardous materials and fire science classes as needed.
In 2007, Dan was the City of Coos Bay employee of the Year. Dan won the General Alarm Award in several different years along with the Training Award in 2010. In 2011, Dan received a Unit Citation Award for his role in the care of a shooting victim in 2009. Dan is married to his wife Tiffany, has a son, Brandon who attends George Fox University, and has a daughter, Brittany who attends North Bend High School.
Chief Crutchfield is the health and safety officer for the fire department. He is also responsible for the maintenance of fire station 3 which is located in Eastside. Chief Crutchfield is the administrator for the Office of State Fire Marshal Hazmat Team 15, oversees the fire prevention and building inspection programs, pre-fire plans, hose testing, Juvenile fire setter program, local emergency planning committee, and the fire department web-site.
Organization
The City of Coos Bay's Fire Department is a full-service emergency safety provider. In addition to responding to approximately 2,400 emergency requests for assistance annually, the department provides a number of proactive services including fire and safety inspections, emergency planning (disaster), consultative services and educational programs for the general public and business community.
The department provides services to the City of Coos Bay as well as contracted fire and medical service to Timber Park, Libby and Bunker Hill Fire Protection Districts. This encompasses an area of 17 square miles and a population of approximately 23,000.
Personnel
The Coos Bay Fire Department is staffed by 16 career fire fighting personnel, 15 volunteer fire fighters, and up to 8 intern firefighters who work directly with full time staff. This program trains personnel who desire a career in the fire service. The interns are enrolled in the fire science program at Southwestern Oregon Community College.
Become a Volunteer
To become a Coos Bay Fire & Rescue Volunteer Firefighter please fill out a Volunteer Application and include a copy of your valid drivers license, and turn it into Coos Bay Fire Station 1 located at 450 Elrod Ave., in Coos Bay. Applications can be picked up at Station 1 or can be found under the section "Volunteer/Intern Firefighters".
Stations and Resources
Service to the community is provided from 3 strategically located fire stations. The locations and resources at these stations are as follows:
Station
Career Personnel: Per Shift
Apparatus
Station 1, 450 Elrod Ave
Office # - 269-1191
Office hours: 8am to 5pm (M-F)
Fire Chief
Battalion Chief
Firefighter/Engineer - 2
Intern Firefighters: Up to 6
2 - Class A Pumpers
1 - Medium Rescue
1 - 75 ft. Quint
1 - Region 15 Hazardous Materials Suburban & Box Trailer
1 - Region 15 Hazardous Materials Tractor/Trailer
1 - Command Vehicle
1 - Staff Vehicle
Station 2, 189 Wall St.

Lieutenant - 1
Firefighter/Engineer - 1

Intern Firefighters: Up to 2

1 - Class A Pumper
1 - Staff Vehicle
Station 3, 365 D St.
Not Manned
1 - Class A Pumper
NOTE: The department personnel is made up of a Fire Chief, 3 Battalion Chiefs, 3 Lieutenants, 9 Firefighter/Engineers that are career, 15 Volunteers and up to 8 Intern Firefighters. Off-duty career and volunteer staff report to Station 1 at 450 Elrod Ave. when called out for general alarms. A "General Alarm" is used when additional staffing is needed, due to structure fires, mutual aid, or specialized rescue efforts. Personnel are alerted by the North Coos 911 dispatch center through a paging system.
In addition to the resources identified above the department participates in a countywide mutual aid system, which increases the total amount of resources immediately available.
Programs
The Coos Bay Fire Department provides a number of services both traditional and some not so traditional to its customers. A brief description of these specific services are as follows.
FIRE SUPPRESSION
The Coos Bay Fire Department provides a quality level of service in a number of fire suppression disciplines including ship board, bulk fuel, rail, urban, and wildland/urban interface type fires. Career personnel receive in-depth training on a daily basis and volunteers must meet minimum hourly training requirements on a weekly basis. The department also has and maintains state of the art equipment and apparatus to meet the challenges of differing types of fires.
When a fire alarm is received the department will initiate an efficient response with its personnel, at the same time both volunteer and off-duty career personnel can be recalled by way of a "General Alarm" to provide an effective supplemental force for any operation.
EMERGENCY MEDICAL
The Coos Bay Fire Department participates in cooperation with Bay Cities Ambulance to provide a tiered emergency medical response. This system assures a very efficient and effective service level to our customers.
Any call for emergency medical assistance is immediately responded to and handled by the departments career staff. The department's career staff currently comprises 4 Paramedics, 10 EMT-Intermediates, and 1 EMT. The department's volunteer staff has 1 Paramedic and 1 EMT and 3 Interns that are EMT's.
RESCUE
The Coos Bay Fire Department has the expertise and equipment to handle a number of different type of rescue situations. This includes experience and training in vehicle extrication, structural collapse extrication and rope rescue.
HAZARDOUS MATERIALS TEAM
The Coos Bay Fire Department is contracted by the State of Oregon to provide 1 of 13 Oregon hazardous material response teams. This team provides emergency hazardous material response for all of the south coast from near Florence to the Oregon/California border.
EMERGENCY SALVAGE
The Coos Bay Fire Department has the equipment and expertise to assist with mitigating emergency salvage issues. This includes water removal, protection of furnishings from damage, protection of certain types of equipment, due to water entering a structure or while overhauling a structure and smoke removal to name but a few. It must be understood these functions are to abate EMERGENCY SITUATIONS.
FIRE CAUSE DETERMINATION
The Coos Bay Fire Department conducts investigations of all fire incidents it responds to. The purpose of which is to determine the point of origin and cause. A team of department personnel are available at all times for this purpose.
Intern firefighter program
Coos Bay Fire & Rescue offers internships for firefighters that live and work at one of the staffed stations while working towards a two year Fire Science Associates Degree or a three year Paramedic Degree
Fire Prevention and Safety
In an effort to reduce the impacts of fires and accidents in the community and to better prepare the public to react to an emergency, the Coos Bay Fire Department conducts a number of proactive educational and prevention programs.
FIRE AND SAFETY INSPECTIONS
The Coos Bay Fire Department can conduct on site safety and fire inspections to address such issues as fire hazards, testing of private fire protection systems, exit drills, special events and storage/process safety issues.
EDUCATIONAL PROGRAMS FOR GENERAL PUBLIC AND BUSINESSES
The Coos Bay Fire Department provides a number of educational opportunities for both the general public and businesses for which the department provides protection.
For the general public this includes home fire escape plans, home safety inspections, cooking fire safety, family disaster preparedness, juvenile firesetter counseling, smoke detector installation and maintenance, chimney and wood burning fuel device safety and electrical hazards to name but a few. A number of programs provided for the business community include training of employees in the proper use of fire extinguishers, first aid and CPR instruction, hazardous materials awareness (Community Right to Know) training, disaster preparedness for businesses, confined space rescue requirements and company self inspection practices.
Smoke Detector Program
Coos Bay Fire & Rescue can provide you with one free smoke detector* if you meet the following requirements:
Be a resident of Coos Bay
Have a family income of less than $65,000
Have children under the age of 12 in the home
Own or be purchasing the home
Or be 65 years of age or older
*Subject to availability
CONTRACTING SERVICES
The City of Coos Bay Fire Department has for a number of years contracted a portion or all of its services to 3 rural fire protection districts these are Timber Park, Libby and Bunker Hill. These districts incorporate businesses and a combined population of approximately 5,500 people within their boundaries.
Volunteer/Intern Firefighters
Coos Bay Fire & Rescue is a combination Fire Department and we are accepting applications for volunteer firefighters or intern firefighters
Volunteer firefighters complete a DPPST Firefighter I Academy and have scheduled drills every Wednesday night starting at 7PM. Coos Bay Fire & Rescue offers internships for firefighters that live and work at one of the staffed fire stations while working towards a two year Fire Science Associates Degree or a three year Paramedic Degree
Upcoming Events
Upcoming events of Coos Bay Fire & Rescue
First Wednesday of each Month Carseat Clinic at Coos Bay Fire Station 1, Times: 11am - 1pm
December 26, 2013 Coos Bay Fire & Rescue Hosting at Shore Acres State Park
January 2014 Christmas Tree pick-up, can food donations accepted
Coos Bay Fire News
Coos Bay Fire News is where we share important events that have occurred within the fire department, check back frequently for updates
November 2012 Battalion Chief Howard Owens resigned to take the position of Deputy Chief at Kingsley Air Base in Klamath Falls, Oregon. Chief Owens was a great asset to both the department and the community and his departure will be missed. Chief Owens was very active in the community, especially with Blossom Gulch elementary school. A process to fill the vacant position will be determined.

December 3, 2012 Coos Bay Fire department received back the results of the Insurance Services Office (ISO) review which took place the end of August. Coos Bay has been re-classified as a Class 3 Fire Department! The most recent number released by ISO show that out of the over 47,000 fire departments rated by ISO only 5.6% are rated a 3 or better. In the state of Oregon we join only 58 other departments with a rating of 3 or 2, there are no 1's in the state. The audit rated the following, Receiving and Handling Alarms, Fire Department Operations, Equipment, Training and Water Supply. The reviews are scheduled for every ten (10) years. The last rating was conducted in 2002. This change will result in a savings in insurance costs to property owners in the City, Libby and Bunker Hill Fire Districts. Each insurance company evaluates the properties they insure in the area and apply the rating to that property. Upon renewal of your insurance policy you should ask your agent to be sure you are getting the new rating credit. This new rating is because of the hard work that everyone at the Fire Department does. Our dispatch center also assisted in getting the lower rating as well as the Coos Bay-North Bend Water Board. Congratulations to everyone on a job well done!
What does this mean to you? Approximately $100.00 per year savings on your home owners insurance if your house is valued at $150,000.

December 7, 2012 an internal process will be held to fill the vacated Battalion chiefs position; five internal candidates meet the minimum qualifications for the position.

January 29, 2013 After a thorough hiring process, Firefighter/Engineer Dan Crutchfield was offered and accepted the position of Battalion Chief, Crutchfield has 20 years with the department starting as a volunteer before being hired as a career firefighter. The department would like to congratulate him on the advancement and wishes him well.
To fill the opening that was created by Battalion Chief Crutchfield advancing, there will be an open hiring process to fill a firefighter/engineer position. Date of testing to be announced.

February 25, 2013 The job opening for Firefighter/Engineer has been posted, 24 applicants applied, results of the process and job offer to follow.

March 24, 2013 Coos Bay Volunteer Firefighter Ben Rolicheck came out as the top candidate in the hiring process and has accepted the position. Rolicheck has been a volunteer with Coos Bay Fire & Rescue since 2005 when he started as a student intern in the Fire Science program at SWOCC, after completion of his Fire Science degree and Paramedic program, Rolicheck continued as a volunteer with Coos Bay Fire while working as a Paramedic with Bay Cities Ambulance. Rolicheck will start his probationary period on April 22, 2013. Ben will be a great addition to the fire department and we look forward to his years of service to the City.

April 20, 2013 Coos Bay Volunteer Firefighters annual awards banquet held at the Coos bay Eagles Lodge. Two retirees join the ranks of those who came before us and got us to where we are today: Battalion Chief Howard Owens and Chaplain Jerry Hamilton. Thank you both for your many years of service to our wonderful profession and department.
Awards:
General alarm award for attendance at the most fires goes to Luke Taylor for the volunteers and Dan Crutchfield for career staff.
Training award for the most training hours in the previous year goes to Luke Taylor for the volunteer and Kevin Haagen for the career side.
Firefighter of the Year award goes to career firefighter Jeff Adkins
Thank you to all our volunteers and career staff for another amazing year of their service to our citizens and community.
July 4, 2013 Coos Bay Fire & Rescue had a very busy day...
Initially starting in the morning department members sponsored the Annual fishing derby at Mingus Park on July 4, 2013. This event has been hosted by the Coos Bay Firefighters for over 20 years and it continues to see a great turnout of children and adults coming for the chance to catch a fish. We could not have the success that we do without Tom Rumreich of Oregon Department of Fish & Wildlife for providing the fish; ODF&W volunteers who guide the children in their fishing experience; Arctic Ice for providing materials; Coos Bay Parks and Public Works for their assistance in the event from start to finish and; all of the volunteer firefighters and their families who give up their time every year to make this a continued success. And a special thank you to all of the participants who eagerly waited in line for their chance at hooking the big one, thank you.
Later that afternoon, staff and volunteers worked digging trenches to bury the firework mortars to be able to provide the annual fireworks over the bay. The activity takes about five hours with ten workers to get everything setup for the thirty minute show. This year, KDOC radio partnered with Coos Bay Fire & Rescue to bring you Music and Fireworks on the Coos Bay Boardwalk. At 8:00 pm; current and former Bay Area Teen Idols helped to celebrate America's Birthday by playing America's favorite patriotic songs! Then at 10:00 pm a massive fireworks display choreographed to music lit up the sky.
September 7,2013 Get Ready Coos Bay 2013; Coos Bay Fire & Rescue and Northwest Natural partnered together to bring the community "Get Ready Coos Bay" which took place from 10 a.m. to 3 p.m., at the Coos Bay Fire Department's main station on Elrod Avenue. A free lunch was provided and the first 100 families that attended received a free Red Cross emergency kit. The American Red Cross, public safety agencies, local businesses and other organizations were available to answer questions. The purpose of this event was to bring resources together to provide the community information on how to prepare for an emergency. The Coos Bay Fire Department wants to remind everyone to keep enough supplies in your home to meet your needs for at least three days. Assemble a disaster supply kit with items you may need in the event of an evacuation. Store your supplies in sturdy, easy to carry containers such as backpacks or duffle bags. If a natural disaster hits our area, the Coos Bay Fire Department and Northwest Natural want you and your family to be prepared.
September 14, 2013 Coos Bay Firefighters picked up trash along the roadway on Ocean Boulevard . The Firefighters donated their time to prepare Ocean Boulevard for the upcoming Prefontaine Memorial Run which was scheduled for September 21, 2013. The Coos Bay Fire Department asked for motorists to be aware of the increased pedestrian presence on the roadway and to use increased caution when traveling through this area.
Coos Bay Firefighters strive to work hard for the citizens of Coos Bay not only when they are answering emergency calls but also in making the City they reside in a more beautiful place. Coos Bay Firefighters take extreme pride in their work both professionally and in the various volunteer activities that we partake in. Coos Bay Firefighters are proud of our community, and we are committed to providing excellent services to our citizens.
The Coos Bay Fire Department would like to remind everyone that a new school year has started and children may be present along our city streets making their way to school or on their way home after school. Please be extra careful in these situations and use caution near crosswalks.
September 17, 2013 Coos Bay Firefighters helped to serve hot dogs and chips to students and families at Blossom Gulch Elementary School. The project was corrdinated by Jim Lorenz from The Coach House Restaturant. The event helps the families of the students get to know their teachers and other staff members. Coos Bay Firefighters look forward to the event every year as another opportunity to interact with the students and their families.
October 4 - 6, 2013 Coos Bay Firefighters selected as Escorts for the National Fallen Firefighters Memorial Service in Emmitsburg, Maryland
In October of each year, the Foundation sponsors the official national tribute to all firefighters who died in the line of duty during the previous year. Thousands attend the National Fallen Firefighters Memorial Weekend in Emmitsburg, Maryland. During October 4 - 6, 2013, the memorial honored 73 Firefighters who died in the line of duty during 2012 and 8 from previous years. Members of the fire service make the Memorial Weekend a special time for the families of our fallen heroes.
Firefighters have the opportunity to serve as a Fire Service Escort to the family of a fallen firefighter. Family Escorts represent the fire service family and create a lasting impression. The escorts who have accompanied families to weekend events in the past describe it as an unforgettable experience. Two Coos Bay Firefighters were selected to be family escorts at the National Fallen Firefighters Memorial in Emmitsburg, Maryland
October 6 - 12, 2013 Fire Prevention Week 2013 Theme: "Prevent Kitchen Fires"
Fire Prevention Week was established to commemorate the Great Chicago Fire, the tragic 1871 conflagration that killed more than 250 people, left 100,000 homeless, destroyed more than 17,400 structures and burned more than 2,000 acres. The fire began on October 8, but continued into and did most of its damage on October 9, 1871.
The biggest blaze that week
While the Great Chicago Fire was the best-known blaze to start during this fiery two-day stretch, it wasn't the biggest. That distinction goes to the Peshtigo Fire, the most devastating forest fire in American history. The fire, which also occurred on October 8th, 1871, and roared through Northeast Wisconsin, burning down 16 towns, killing 1,152 people, and scorching 1.2 million acres before it ended.
Eight decades of fire prevention
Those who survived the Chicago and Peshtigo fires never forgot what they'd been through; both blazes produced countless tales of bravery and heroism. But the fires also changed the way that firefighters and public officials thought about fire safety. On the 40th anniversary of the Great Chicago Fire, the Fire Marshals Association of North America (today known as the International Fire Marshals Association), decided that the anniversary of the Great Chicago Fire should henceforth be observed not with festivities, but in a way that would keep the public informed about the importance of fire prevention. The commemoration grew incrementally official over the years.
In 1920, President Woodrow Wilson issued the first National Fire Prevention Day proclamation, and since 1922, Fire Prevention Week has been observed on the Sunday through Saturday period in which October 9 falls. According to the National Archives and Records Administration's Library Information Center, Fire Prevention Week is the longest running public health and safety observance on record. The President of the United States has signed a proclamation proclaiming a national observance during that week every year since 1925.
Fire Prevention Week in Coos Bay
October 6-12 - Coos Bay Fire Department joined forces with the nonprofit National Fire Protection Association (NFPA) to remind local residents to 'Prevent Kitchen Fires.' During this year's fire safety campaign, fire departments spread the word about the dangers of kitchen fires--most of which result from unattended cooking—and taught local residents how to prevent kitchen fires from starting in the first place.
Throughout the week members of Coos Bay Fire Department held station tours for 200 local students grades K- 4th at the Coos Bay fire station. Members from the department also provided some fire safety presentation at Coos Bay Schools for approximately 200 students.
October 9, 2013 Open House : from 5:00pm to 7:00pm, the Coos Bay Fire Station at 450 Elrod was the site of the annual Fire Prevention Week Open House. This is a fun filled event to which all citizens were invited to partake in free food, games, music, prizes, fire prevention messages, and more. In the past years this event has been a great time for the community to come together and enjoy one another in a positive family atmosphere, this year the department hosted over 500 participants.
More to come.....
Burning Regulations
Residential outdoor burning within the City limits of Coos Bay does not require a permit from the fire department. Burning is allowed during daylight hours only, with a responsible adult equipped with a hose and a shovel or other approved fire extinguishing tool present at all times.
Those permits which fall under the category of land clearing (vacant lots), commercial, remodeling or demolition of a building, must apply at the local Department of Environmental Quality, 381 N. 2nd St., Coos Bay, ( phone (541) 269-1441 ) for a DEQ permit. Once a DEQ permit is obtained, bring the permit to the Coos Bay Fire Station #1 located at 450 Elrod Avenue for documentation.
If weather conditions warrant a ban on barrel or open burning, the message will be given out through local television, radio, newspaper and City weekly updates.
For copies of the residential burning regulations, please click on the link below or contact the Fire Department at (541) 269-1191.
Printable Residential Burning Regulations
BURN BARREL REGULATIONS
Clearance from structure and clearing of grass and brush shall not be less than 15 feet. An approved burn barrel includes a screen covering with holes no larger than 1/4 inch. Permissible burnables include wood, paper, cardboard, and yard trimmings.
OPEN FIRES
Open burning shall not be conducted within 50 feet of any structure or other combustible material. Exception: Not less than 25 feet when the pile size is 3 feet or less in height. Permissible burnables include yard trimmings and scrap wood.
SLASH BURNING
Calculation of fuel tonnage and fuel moisture will be necessary to assess any risk; recording weather conditions, fire protection and trailing plans must be on the site map, and pile location approximates are required.
Building & Fire Code Board of Appeals
Building & Fire Code Board of Appeals
The Board of Appeals enforces the code according to its terms and to the rules, supplemental regulations, and interpretations of the building official.
The Board meets on an as needed basis. ORDINANCE
| | |
| --- | --- |
| MEMBERS | TERM ENDING |
| Hilary Baker | 06/30/2014 |
| Bruce Harlan | 06/30/2015 |
| Weldon Laiche | 06/30/2014 |
| Robert Vandervelden | 06/30/2015 |
| Vacancy | |